Thinking of doing something special for your loved one this Valentine's Day? Make it a special delivery—by sending them a love package filled with their favourite gifts and goodies.
Whether your special someone lives near or far, they're sure to appreciate a thoughtful surprise delivered right to their door. And the good news is, it's easier to put together than you think.
Pick It The fun begins when you start picking out items to put inside the love package. Take a look at these fun themes to help you get started.
For the sports fan – towels, blankets, t-shirts or even iron-on pillowcases adorned with their favourite college or professional sports team logo, or favourite player's number
For the gadget geek – find the must-have technology (and required batteries) they've been pining for, all wrapped up and ready to go
For the movie buff – gift certificates to their local movie theatre or a collection of DVDs, popcorn included
Pack It Make sure your items are cushioned for the trip to your Valentine's address.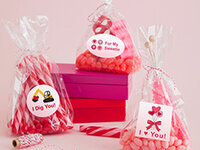 Next, seal the box and if it's heavy, make sure you reinforce all seams using clear or brown packaging tape, reinforced packing tape or paper tape advises Canada Post.
Ship It Love comes in all shapes and sizes. So whether you're reusing a padded envelope, box or even a mailing tube, you can make sure old markings or labels don't show through by addressing your love package with an Avery Shipping Label with TrueBlock™ Technology. It's the only label that completely covers everything underneath and looks good doing it.
Keep in mind most shipments shipped within Canada can take between two to fifteen days when using Canada Post.
So this Valentine's Day, do the unexpected! A love package that arrives by mail is a delightful surprise that's sure to warm anyone's heart.