Employee Business Cards from Avery Custom Printing
Order your Employee business cards online and we'll deliver them right to your office or home. Ships within 2 business days.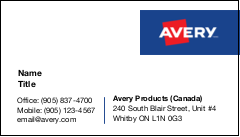 Avery Products Canada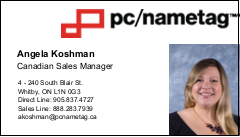 pc/nametag Canada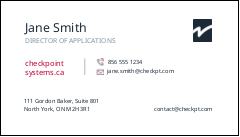 Checkpoint GBR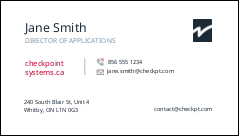 Checkpoint Whitby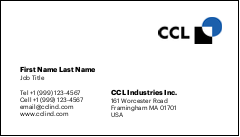 CCL GBR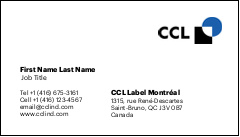 CCL Montreal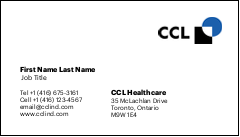 CCL Etobicoke
CCL Etobicoke
---
How it Works

Step 1: Personalize your business card design


Choose one of the approved templates above
Add your personal information
click Skip this Step if warned about the small font size
Proof your business card


Step 2: Select quantity and material


Choose the amount of cards you would like to order
For CCL cards, choose Matte White material


Step 3: Proceed to checkout


Log in using your employee email address to receive the 30% employee discount
Select shipping method (ground, priority)
Charge to your credit card and expense to the appropriate staffing center


Standard Pricing and Card Options are listed on the right.